Spinedex is a modern, comprehensive spinal rehabilitation clinic that combines the newest treatment techniques and equipment along with cutting-edge technology to fully specialize in the rehabilitation of patients with spine problems.

Our treatment techniques are designed to specifically treat patients who have neck pain and/or back pain associated with bulging discs, herniated disc, degenerative disc disease, sciatica and facet syndrome.

We set ourselves apart from other physical therapy clinics because of our incorporation of state-of-the-art equipment into our treatments. This equipment allows for healing of the disc itself while most physical therapy techniques are only able to change the tissues around the discs (muscle, etc).


MED-X Therapy

MED-X is rehabilitative equipment, developed by the founder of the Nautilus exercise equipment, Arthur Jones. The MED-X machines are specially designed to provide the most effective means of isolating, safely testing and directly strengthening the muscles in the low back. The equipment is used to improve range of motion, improve muscle strength, decrease pain and return the patient to normal function.

The majority of people who have suffered from low back pain have significant weakness (disuse atrophy) of the major muscle groups of their backs. In the case of disc pathology this weakness contributes to the pain cycle and can worsen symptoms. Unfortunately, ordinary floor, chair and standing exercises do almost nothing to strengthen these important muscle groups. This is because they do not immobilize the large muscle groups in the thigh and buttocks, therefore, allowing these muscles to compensate for the low back muscles.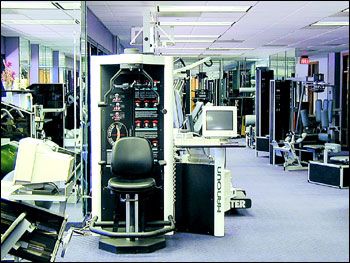 Isolation of the low back musculature requires that the powerful thigh and buttocks muscles be prevented from assisting the low back in movement. MED-X has designed the MED-X Lumbar Extension Machine to combat this problem. The chair features a system, which locks your legs and pelvis into place, completely eliminating pelvic movement during exercise. This isolation allows these weak muscles to respond so rapidly that an increase in strength of several hundred percent is quite common.

At Spinedex we utilize this piece of equipment to perform a computerized strength evaluation of each patient's low back musculature. The computer compares the patient's results to a database of people without low back pain. We can then determine where the patient's strength is in relation to normal and make recommendations based upon this data. If the test indicates that a patient has lumbar extensor weakness, this same piece of equipment is utilized to isolate and strengthen this muscle group. The computerized testing assists us in tracking the patient's progress throughout their care.
In a study stretching over two years, Dr. Nelson reported on a group of 1,339 patients, which included a follow-up 13 months after they had competed the initial treatment for low back pain. On average, men and women increased their low back muscle strength by 45 percent. Accompanying this increased low back strength, 63 percent of the patients reported that all their pain was gone or was greatly decreased, while 15 percent reported significant improvement. Twelve percent reported no change, and only 3 percent said their pain was worse. On follow-up after 13 months, 94 percent of those patients who reported excellent to good results (no pain to significant improvement) maintained this improvement. Dr. Nelson also showed that of the one in six patients, who were considering surgery before entering the program, a full 71 percent stated that results from MedX treatment convinced them that surgery was not necessary.

Posture Pump
Posture pump is a form of cervical traction. It is different from traditional traction in that it helps to improve the normal curve of cervical (neck) posture. In today's society most of us spend a large amount of our day with our head held in a forward posture. Whether we are watching T.V., driving, or working on a computer. With prolonged time in this position, the spine begins to lose the natural curve of the spine. When the spine has lost its natural shape the rich lubricating fluid is unable to properly penetrate the joints, contributing to nutritional loss and premature aging.

The Posture Pump carefully lifts and separates spinal joints in anew way that traction cannot. Unique expanding air cells angled into the spine activate the function of the discs. This dynamic action reinforces the spine's natural shape and promotes joint lubrication, joint nutrition, flexibility and correct posture. At Spinedex we have had excellent success with cervical disc patient's who have used this piece of equipment in addition to a comprehensive strengthening program.

More Information
For further information on MED-X, please read the following articles:
1. Archives of Physical Medicine and Rehabilitation, Volume 80, January 1999. "Can Surgery be Prevented by Aggressive Strengthening Exercise? A Prospective Study of Cervical and Lumbar Patients." Brian W. Nelson, MD, David M. Carpenter, MS, Thomas E. Dreisinger, PhD, Michelle Mitchell, PTA, Charles E. Kelly, MD, Joseph A. Wegner, MD.

2. Orthopedics, Volume 18, Number 10, October 1995. "The Clinical Effects of Intensive Specific Exercise on Chronic Low Back Pain: A Controlled Study of 895 Consecutive Patients with 1-Year Follow Up." Brian W. Nelson, MD, Elizabeth O'Reilly, RN, Mark Miller, PT, Mike Hogan, PT, Joseph A. Wegner, MD, MPH, Charles Kelly, MD.

3. Spine, Volume 18, Number 2, February 1993. "Lumbar Strengthening in Chronic Low Back Pain Patients." Sherry V. Risch, PhD, Nancy K. Norvell, PhD, Michael L. Pollock, PhD, Edward D. Risch, MD, Howard Langer, RRT, Michael Fulton, MD, James E. Graves, PhD, and Scott H. Leggett, MS.

4. The American Journal of Sports Medicine, Volume 17, Number 5. "Effects of Resistance Training on Lumbar Extension Strength." Michael L. Pollock, PhD, Scott H. Leggett, MS, James E. Graves, PhD, Arthur Jones, Michael Fulton, MD, Joe Cirulli.
5. Archive of Physical Medicine Rehabilitation, Volume 75, February 1994. "Pelvic Stabilization During Resistance Training: Its Effect on the Development of Lumbar Extension Strength." James E. Graves, PhD, Dina C. Webb, MSPT, Michael L. Pollock, PhD, Jan Matkozich, Scott H. Leggett, MS, David M, Carpenter, MS, Dan N. Foster, MS, Joseph Cirulli.

6. Spine, Volume 17, Number 6S, June 1992. "Changes in Isometric Strength and Range of Motion of the Isolated Cervical Spine After Eight Weeks of Clinical Rehabilitation." Thomas R. Highland, MD, Thomas E. Dreisinger, PhD, Laura L. Vie, Bed, and Garth S. Russell, MD.

7. Archive of Physical Medicine Rehabilitation, Volume 74, October 1973. "Frequency and Volume of Resistance Training: Effect on Cervical Extension Strength." Michael L. Pollock, PhD, James E. Graves, PhD, Marcas M. Bamman, MS, Scott H. Leggett, MS, David M. Carpenter, MS, Cecily Carr, MS, Joe Cirulli, Jan Matkozich, Michael Fulton, MD.

8. The American Journal of Sports Medicine, Volume 19, Number 6. "Quantitative Assessment and Training of Isometric Cervical Extension Strength." Scott H. Leggett, MS, James E. Graves, PhD, Michael L. Pollock, PhD. Michael Shank, MS, David M. Carpenter, MS, Bryon Holmes, MS, and Michael Fulton, MD.